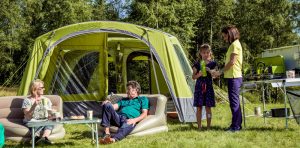 With movement restrictions lifting and the summer holidays upon us, more and more UK families are planning to holiday at home.  A recent survey conducted by Wayfayrer identified that over a third of outdoor consumers were cautious about taking holidays abroad.
Couple this with quarantine restrictions in place for those returning to the UK from foreign travels and it's not difficult to see how a UK based holiday will be more attractive, easier to plan, whilst also giving the UK economy a boost at the same time.
So, if you're planning to get away in the UK and the great outdoors is your passion.  Now is the time to start prepping for that staycation, to ensure you have everything, your family needs. We've created a pdf download family camping checklist, to help you get ready for your adventure. Your camping checklist will vary according to where you are going, the activities you have planned, time of year, age of your children and the length of your trip. Simply add or remove items to suit your camping trip.
What is you must have luxury item when you go away? Is it your phone, your favourite book or food? Let us know in the comments section.