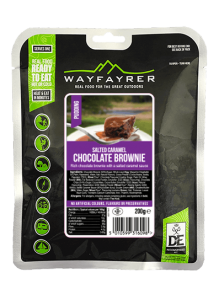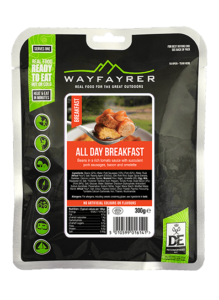 The UK's number one outdoor food brand 'Wayfayrer' has updated it's packaging for the 2020 summer season.  The new designs feature more space for food photography, in addition to adding colour coding to their packs so that individual meal types can be identified in store more easily. 
Going forward, all breakfasts will feature an orange colour band, whilst main meals and puddings will be blue and purple respectively. Each pack also features a foil outer edge to highlight the packs strength and durability, alongside it's ability to keep the food inside foil fresh.
The striking new design also features the Duke of Edinburgh's Award scheme logo – which highlights Wayfayrer as the official outdoor food of the charity. The packs themselves also keep their signature black and green accents, allowing customers to instantly recognise them in store.
Robert Burns, brand manager for Wayfayrer Foods said "Wayfayerer has been the number one camping food for over 20 years in the UK and whilst it is important that the packs are given a refresh, they must also remain recognisable to consumers when they are searching for their favourite food in store. The new packs are bright, colourful and more informative than the previous versions and we hope that consumers find them easier to shop in store by having identifiable colourways for each of our meal types."